How will you express youself here?
Music Studio Type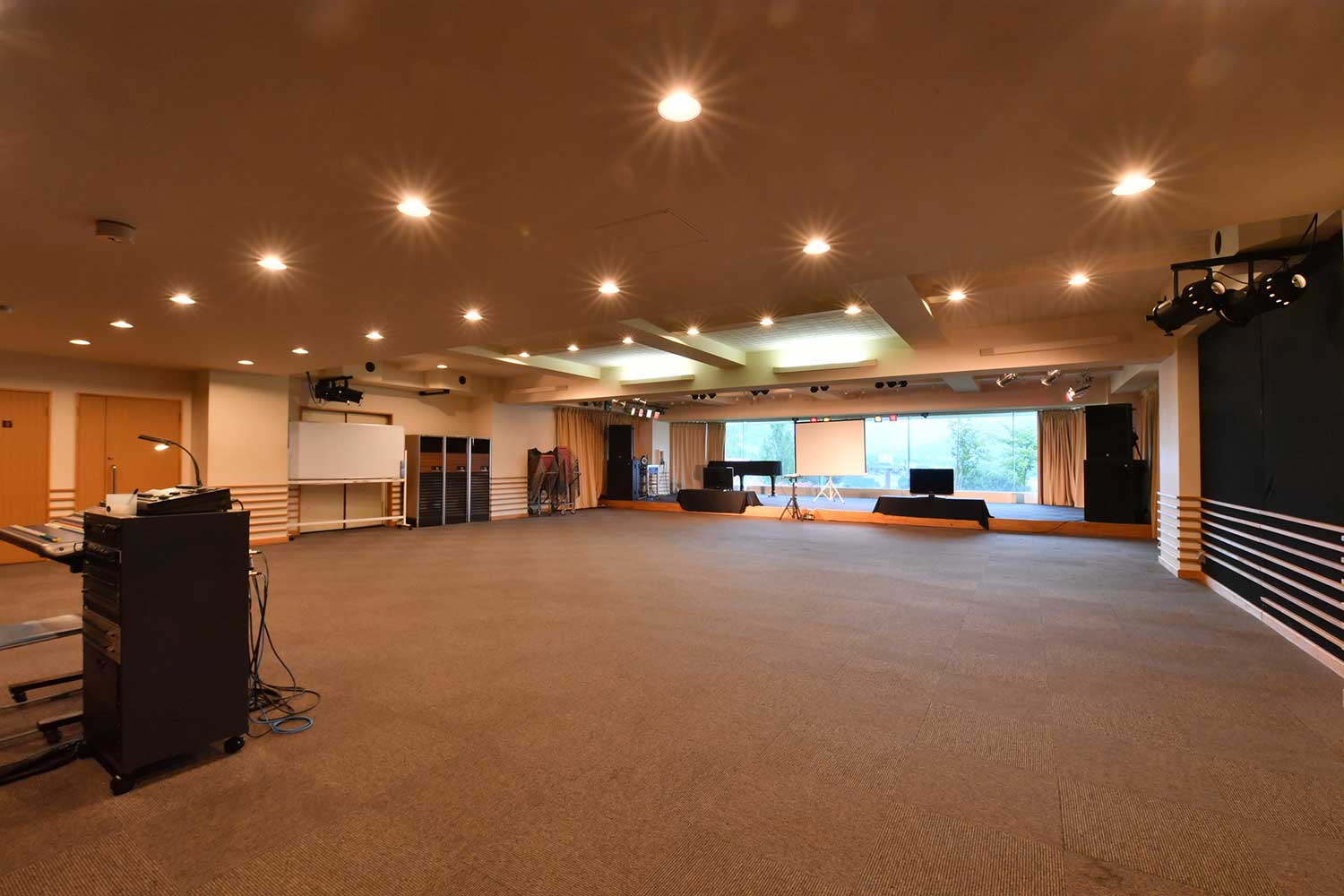 A studio
With 198㎡ of space, the A studio is a hall where can accommodate up to 100 people. Where there is a big stage that can use for various purposes such as live performances as well as corporate training.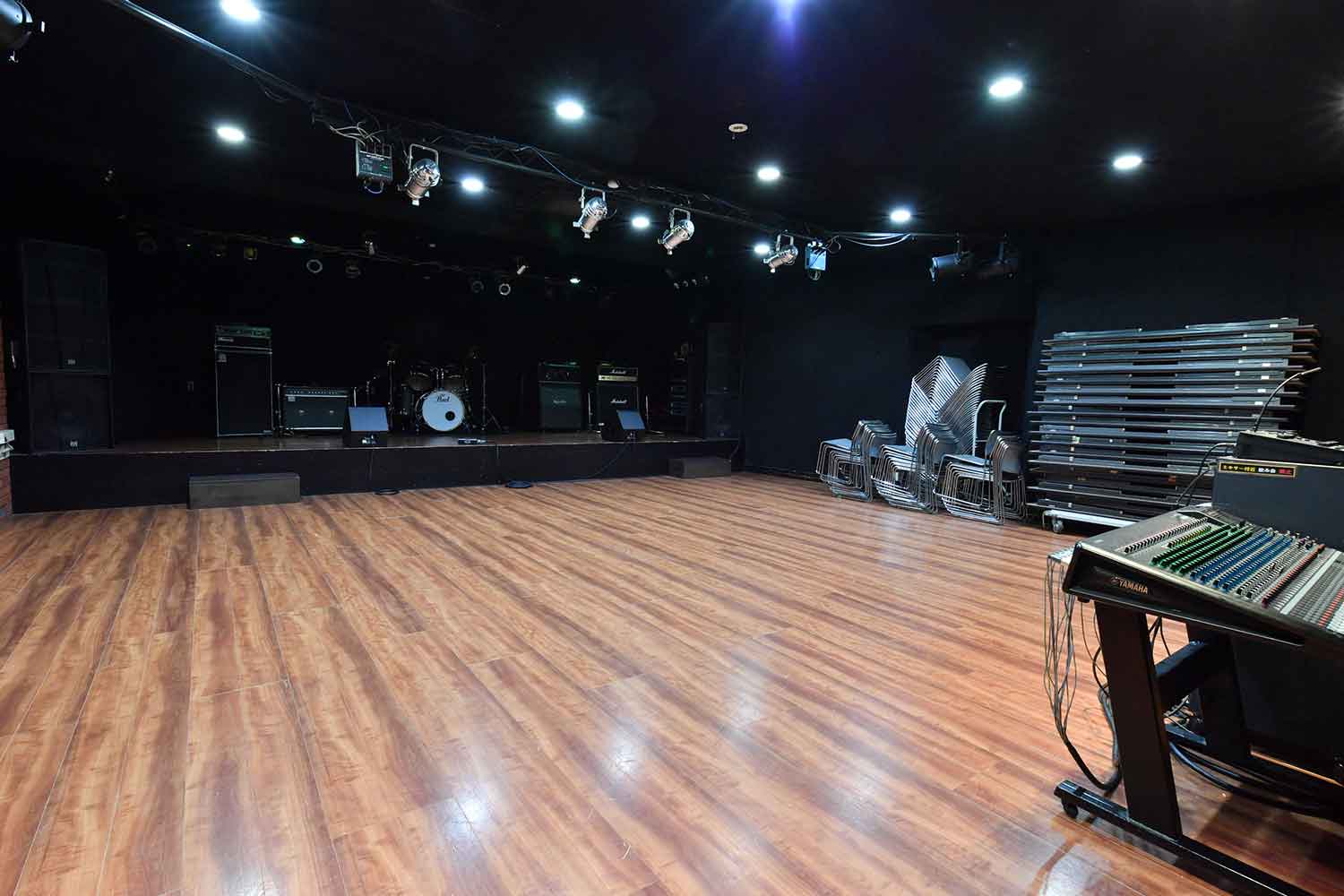 C studio
With 93.5㎡ of space, the C studio is a hall where you can enjoy a real like live house-style studio atmosphere that can accommodate up to 60 people.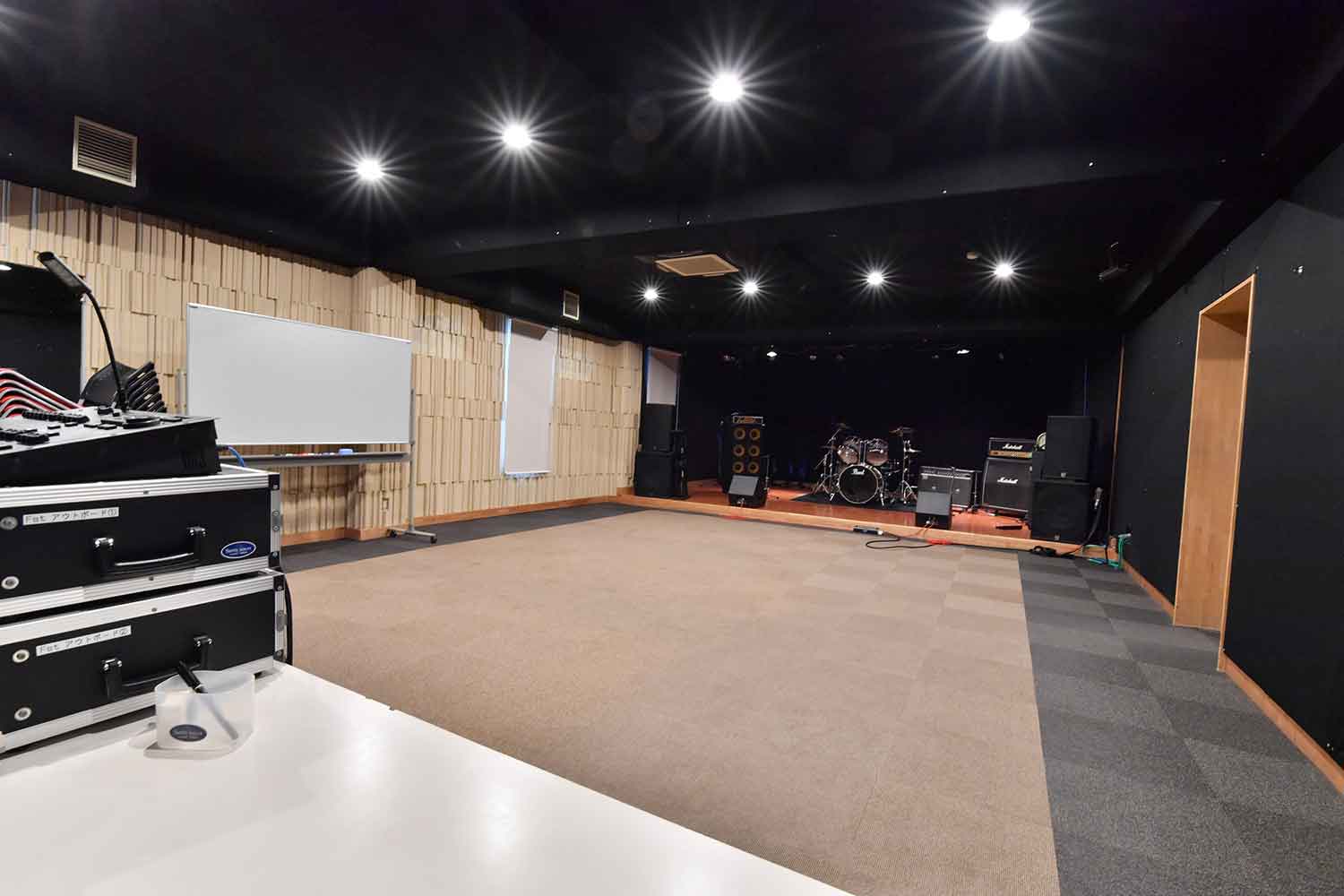 F studio
With 78㎡ space, the F studio is a hall that can accommodate up to 40 people. There is also a dor that allows direct access to the garden that you can use it for various purposes.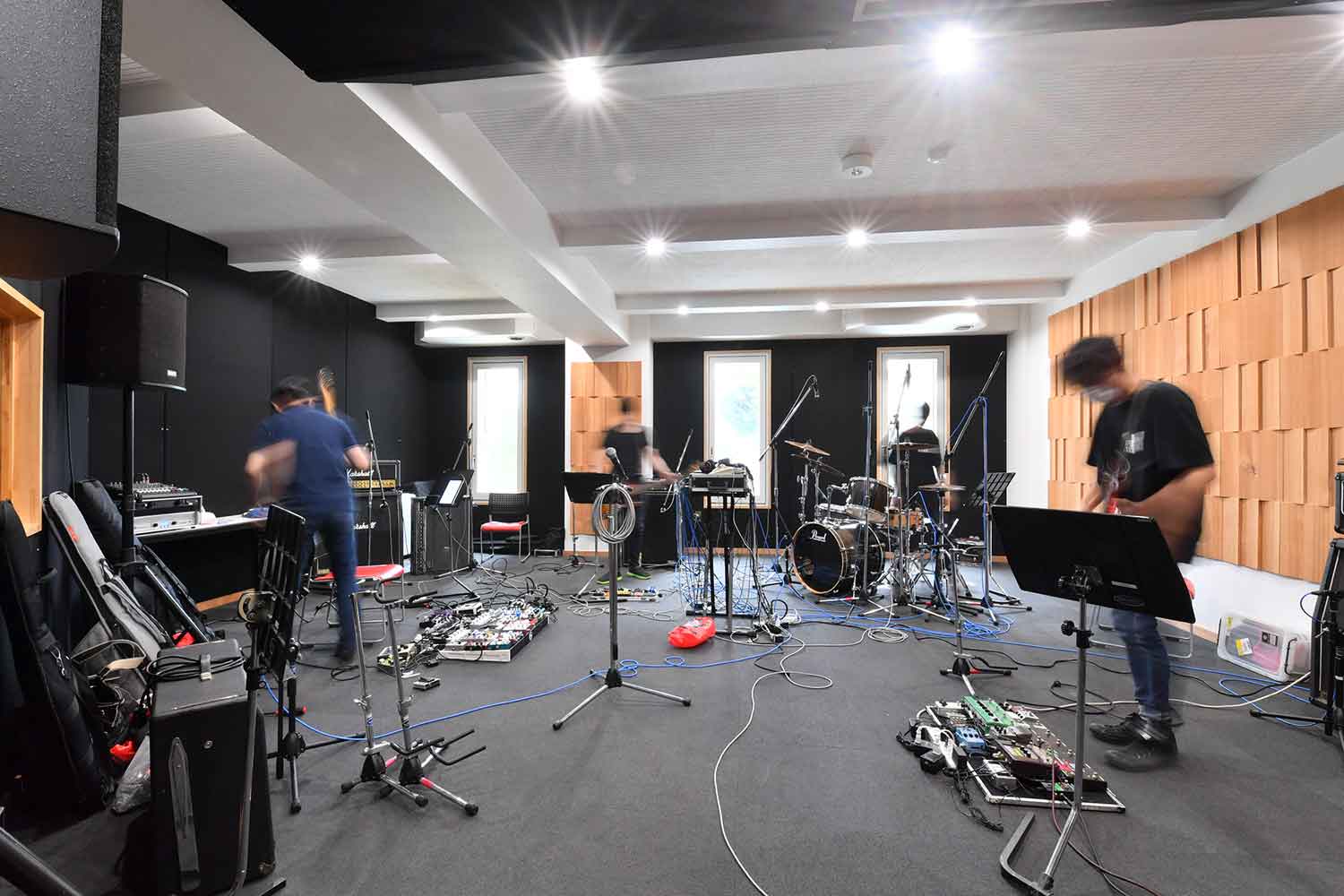 B1 studio
With 52.5㎡ spaces, the B1 studio offers a comfortable space for a band or group to practice. It is also popular to use as a conference room with modern decor.
Discover
15 various type of studios from practice rooms to live halls

We also define our hotel as a "Music Hotel", with a 50 years history of the hotel that offers the largest number of music studios in japan. That can use from practice studio to live performances. Also, it can be used for dance and yoga studios as well as a conference room with modern interior design.
Well-equiped music facilities

We have a well-balanced music equipment selections from the best manufacturers, so you can try out the best music quality on your practices as well as your live performances.
Music activities while refreshing at the scenery, cafe and hot springs

The natural surroundings and spectacular scenery, making it your environment perfect to meditate, concentrate, and to be more creative.
RESERVATION
Click here for reservation
Recommendation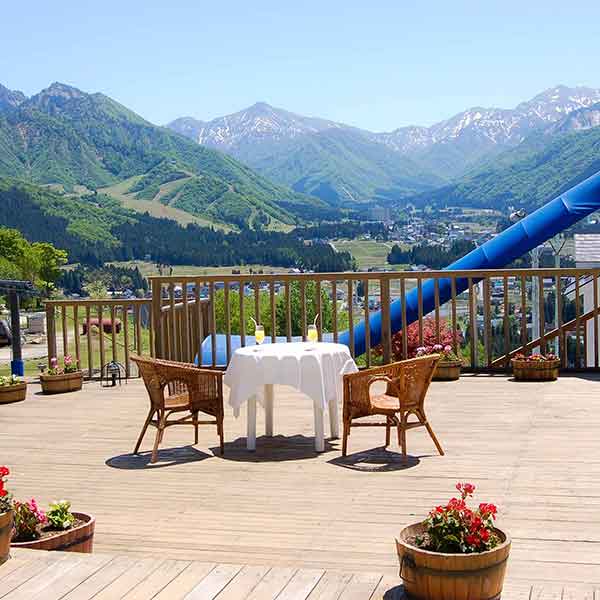 Studio Package Plan
14,000 yen/person with 3 meals per stay
For those who use a full-fledged music studio, such as recording and rehearsals, we prepared a reasonable package plan (Including 3 meals for 1 night stay)
・ Select from 17 large and small studios including 3 live studios!
・ Up to 13h of studio use!
First day of stay = 13:00-22:00
(Overnight use : 1,575 yen per person)
Last day of stay = 8:00-12:00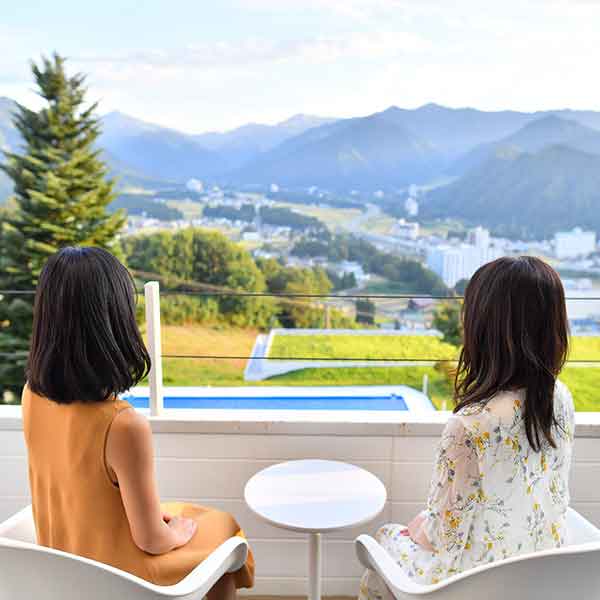 Basic stay plan
10,000 yen/person with 2 meals per stay
This is a basic plan with two meals per stay.
(For studio usage fee , see the details below)
Rooms are available from twins to groups of 3-6 people.
・ Please contact us if you want a deluxe room.
・ Dinner upgrade is available from 1,500 yen ~.
Studio price
(Incluidng tax)
Equipment packages included
Equipment packages not included
14h (8:00~22:00)
1h
14h (8:00~22:00)
1h
Studio for practice
26,400 yen
2,750 yen
16,500 yen
1,650 yen
Live studio
A
77,000 yen
7,700 yen
60,500 yen
6,050 yen
C
66,000 yen
6,600 yen
49,500 yen
4,950 yen
F
49,500 yen
4,950 yen
33,000 yen
3,300 yen
Night extension (22:00~8:00[The next day] )
–
1,650 yen
–
1,650 yen
● The "Studio Package Plan" includes a studio usage fee.
● Standard equipment of equipment package (*)
Guitar amp: 2, Bass amp: 1, Drums set, Mixer PA set, Microphone set: 3, Keyboard stand: 1
● Use time : from 8:00 to 22:00.
After 22;00, extension is available. If you would like to extend, please apply at the reception desk within the time.
Note: Extension may not be possible due to circumstances. Those who use the studio without applying will be charged a maximum extension fee of 15,000 yen and will refuse to use after that.
About reservation
・ Prices below are per person per night, including tax and service charge, and excluding bath tax
・ Check in 15:00 Check out 10:00
・ For more information, please check "Hotel website"
Reservation(9:00〜21:00)
025-787-3250